Initiatives on Information Security
Initiatives on Information Security
At CAP, we manage information based on our "Basic Policy on Information Security". CAP's Information Security Management System has been certified as conforming to the requirements of ISO/IEC 27001:2013 / JIS Q 27001:2014. In January 2016, we obtained certification for the Personal Information Protection Management System PIMS (JIS Q 15001:2006).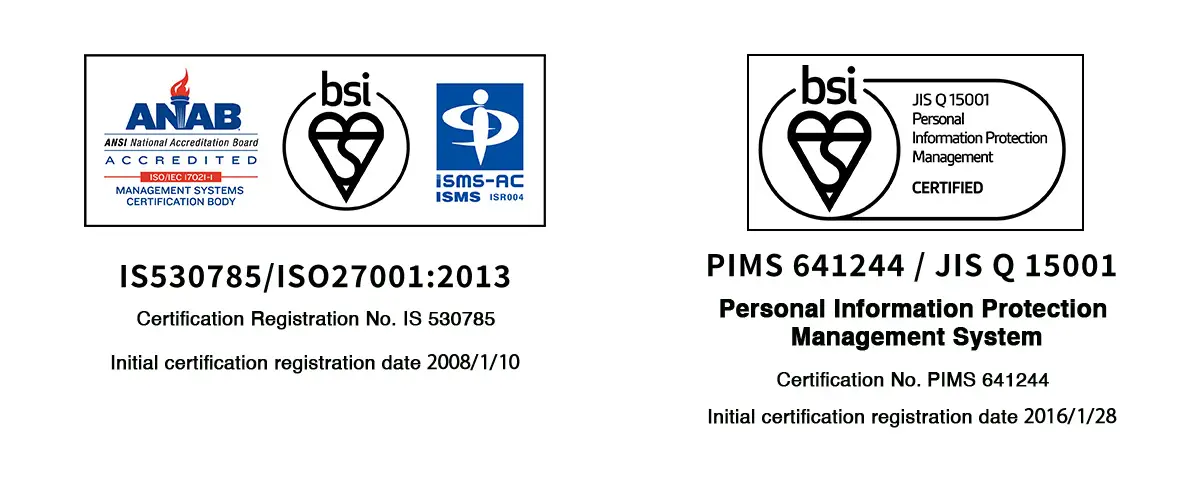 Basic Policy on Information Security
Capital Asset Planning, Inc. (hereinafter referred to as "our company") provides retail business support systems for financial institutions and conducts related business activities, with the integration of IT (Information Technology) and FT (Financial Technology) as our mission. For our company, information assets (information and information systems, etc.) are positioned as the most important assets as a source of generating profits in business activities. Information assets are indispensable for providing systems to customers, mainly financial institutions, collaborating with partner companies, and managing employment with employees. Proper handling of information assets and preventing information security incidents in advance is a social responsibility. Our company will establish this basic policy on information security and strive to thoroughly comply with it in order to work on information security activities as a whole company.
1. Our company will construct and operate an information security management system for the following purposes:
Protection of all confidential information entrusted to us by customers
Compliance with information security requirements from customers
Maintaining continuous service provision to customers
Stable operation of the information services we provide
Proper handling of personal information obtained from customers, shareholders, employees, and partner companies
Compliance with laws, various ordinances, and guidelines related to our business
2. Through the operation of the Information Security Management System, our company will establish measures to maintain information security and strive to improve the security level by continuous improvement.
Handling of Personal Information
Please refer to our privacy policy for the handling of personal information at our company.